According to reports from Germany, Borussia Dortmund manager Lucien Favre has revealed that highly rated duo Jadon Sancho and Achraf Hakimi could both leave Borussia Dortmund when the transfer window opens.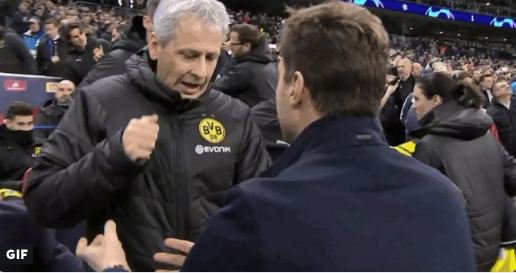 Hakimi and Sancho have been two of Dortmund's best performers during the 2019/20 season. They have combined to great effect. On loan Real Madrid defender Hakimi has registered a very impressive five goals and ten assists this season while operating predominantly from the right back.
As for Sancho, he's been in a fine form
as well. Sancho, 20, has scored 20 goals and provided a further 20 assists in all competitions for Lucien Favre's side.
For Hakimi, his loan deal with Borussia Dortmund would end this summer even as the Germans are hoping to make it a permanent deal. However, Chelsea, Manchester City and Tottenham have all asked Real Madrid about the availability of the player. A whole host of top European sides are also keeping a close eye on his situation.
Sancho has been the subject of heavy speculations for a big money move to Old Trafford. Favre knows there are chances he loses two of his best legs this summer. The 62-year old is genuinely worried. He admitted that the club can do very little about the situations of the two stars.
Hakimi has told close associates that he will not rejoin Madrid to sit on the bench. He believes he is at a time in his career where he needs to play regularly. He stated that consistent club performance will enhance his international appearance as he bids to lead Morocco to next AFCON in Cameroon and next World Cup in 2022.